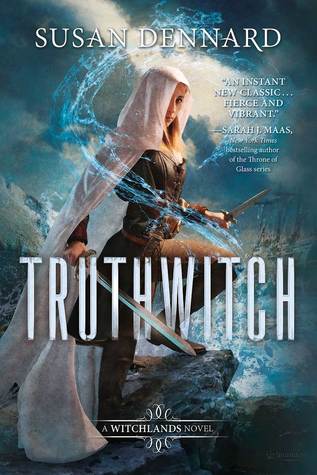 Title:
Truthwitch
Author:
Susan Dennard
Format I Read:
ARC
Pages:
384
Genres:
Fantasy
Release Date:
January 5, 2016
Stars:
5
Goodreads Link
Susan Dennard has made me fall in love—with the characters, the world, the magic, the politics, the chemistry, the writing, everything. I was completely torn between wanting to devour every word and wanting to savor every word. I don't really know what to say. I'm a little in shock.
For those who are unfamiliar with
Truthwitch
:
On a continent ruled by three empires, some are born with a "witchery", a magical skill that sets them apart from others.

In the Witchlands, there are almost as many types of magic as there are ways to get in trouble—as two desperate young women know all too well.

Safiya is a Truthwitch, able to discern truth from lie. It's a powerful magic that many would kill to have on their side, especially amongst the nobility to which Safi was born. So Safi must keep her gift hidden, lest she be used as a pawn in the struggle between empires.

Iseult, a Threadwitch, can see the invisible ties that bind and entangle the lives around her—but she cannot see the bonds that touch her own heart. Her unlikely friendship with Safi has taken her from life as an outcast into one of reckless adventure, where she is a cool, wary balance to Safi's hotheaded impulsiveness.

Safi and Iseult just want to be free to live their own lives, but war is coming to the Witchlands. With the help of the cunning Prince Merik (a Windwitch and ship's captain) and the hindrance of a Bloodwitch bent on revenge, the friends must fight emperors, princes, and mercenaries alike, who will stop at nothing to get their hands on a Truthwitch.
Dennard wove together such a fantastic tale. I honestly think that this is going to be the next sensation in fantasy. I don't want to sound presumptuous, but I'm definitely sensing a new classic in the leagues of the more recent
Throne of Glass
and the timeless
Lord of the Rings
. The world created in
Truthwitch
was truly captivating. Between the fantastically imaginative take on "elemental" magic and the suspenseful tangle of politics, I was sucked in.
I loved the magic of the novel. It was such a unique and thought out interpretation of elemental magic. It was like
Avatar: The Last Airbender
, but with a twist. There are general groups of magic—Aether, Air, Water, Earth, Fire, and Void. But, within each group, there are more specific types of witches. For example, both Safiya and Iseult are Aetherwitches. However, Safiya is a Truthwitch and Iseult is a Threadwitch. I loved the intricacies! Though the world was definitely overwhelming at the beginning, as expected with such a well-developed world, it was easy to catch on and get caught up in the story.
The politics were edge-of-your-seat interesting. I was constantly scanning through every mention of every character, trying to puzzle together each person's allegiance. Every chapter revealed a new clue, snapping a piece into place. I loved trying to figure out everyone's individual plans. It was also so interesting how the Witchlands were loosely based on the real world. If you look on the map, Venaza City is in Italy—it's clearly an iteration of Venice. The Marstoki people were definitely more Turkish, both in their location and in their style. It was so cool to make those connections!
But to the most notable part of this book… God, the characters. Dennard didn't just write the characters; she actually created them. I literally feel like Iseult, Safiya, Merik, Aeduan, and everyone else are sitting here with me as I write my review. From the first paragraph of the first chapter, the characters were enchantingly real. They had so much personality and so much individuality. And, sweet Lord, that chemistry. The relationships that Dennard created were heart-capturing. I loved the Thread-Families and the variety in the relationships that the Threads fostered. There was the to-death friendship of the Threadsisters and Threadbrothers, like Iseult and Safiya, as well as Merik and Kullen. There was the deep-seeded love of the Heart-Threads, like Ryber and Kullen. And then there were the constantly developing and changing Threads—which I won't go into, for fear of spoilers. But, guys,
so good
.
I also really admired the romance of the novel. I don't know if you noticed, but I didn't labelTruthwitch as a romance. I only labeled it as fantasy. Yes, there was romance and it was absolutely swoonworthy. But it wasn't the main focus. It was a slow-building, realistically developing relationship. It took a backseat to the friendships at play in the novel, which I found amazingly inspiring.

I adored Dennard's writing. She is truly gifted. I felt the voice of each individual character whispering in my mind—no lie. The characters were so well-developed and so unique. Just by the writing, I could tell whether it was Iseult or Safiya talking. I literally felt like I was in the Witchlands every time I cracked the book open. Dennard is definitely a Wordwitch because—wow. Magic is honestly the only explanation.

Overall, Truthwitch definitely deserves a whopping 5 stars. Susan Dennard created the perfect start to what will surely be an amazing fantasy series. Let's just do a quick recap of all of the characteristics that Dennard absolutely nailed:

1. Strong characters (particularly women)
2. Inspiring female friendships
3. Badass action scenes
4. Swoonworthy men
5. Riveting world
6. Nail-biting politics
7. Undeniable chemistry
8. Unique magic
9. Beautiful writing
10. Distinct voices

Basically, you better get your butt in gear and preorder this book that will surely sweep the fantasy genre off its feet. Go.