Top Ten Tuesday, hosted by The Broke and the Bookish
Each week,
The Broke and Bookish
host the Top Ten Tuesday discussion. They provide a bookish prompt and other bloggers are welcome to share their "Top Ten" in the specific topic!
Today is a Tuesday, which means it's time for a Top Ten! Today's topic is "All Time Favorite Authors."
If I'm completely honest, I spent a solid ten (
ha, top ten
) minutes perusing my bookshelves, trying to make the difficult decision of which ten authors were my favorites. I love so many amazing authors, and I appreciate every single writer out there who shares their words with the world. However, after much deliberating, I settled on my top ten. In no particular order, I present you with my literary idols!
Cora Carmack
1. Cora Carmack
Those of you who have actually read my blog (and my reviews) understand how boundless my love for Cora Carmack is. It's safe to say that she is currently the top of the top; she's truly my favorite author right now. I actually met her at Apollycon in February 2015, where I also won an ARC of her upcoming book
All Played Out
(to be published on May 12)! I just about cried. I've reread each of her books at least once, and I've embarrassingly reread each of her
Rusk University
novels at least 5 times each. It never ceases to amaze me how Cora captures the voices of her characters. I never get sick of reading anything that comes out of her head. She's also super sweet on social media. I love her to bits!
Katie McGarry
2. Katie McGarry
Katie, Katie, Katie... I got to meet Katie at Apollycon this year as well, and she is so lovely!
Crash Into You
remains one of my favorite books (in addition to
Take Me On
). I love the complexity in her novels and the way that they all connect together. It is truly an art! I am on the edge of my seat waiting for
Nowhere But Here
.
Katie has a way of creating relationships that no one expects. She brings "opposites attract" to a whole new level, and it's beautiful. The couples that she writes have the best balance and really bring out the best in each other. Not only that, but both her novels and her characters are so unique. Each person she brings to life on the page has so much depth. She's amazing!
Jennifer L. Armentrout
3. Jennifer L. Armentrout
I've actually met Jennifer twice, both of which were just fantastic! She's so genuine and fun. But to be completely honest, Jennifer is an anomaly. She cranks out books like a mad woman. That alone deserves an award. And they're actually quality books--she has both quantity and quality! She must have sold her soul to the devil. The
Lux
series remains one of my favorites to this day. She knows how to write chemistry and hot boys like it's nobody's business. I haven't read all of her books (a totally daunting task considering she's written what seems like hundreds), but I know that she spans across genres. She's written adult, science fiction, mystery, thriller, realistic fiction, new adult, young adult, just about everything. Honestly one of my all time favorites.
Sarah Dessen
4. Sarah Dessen
Who doesn't love Sarah Dessen? She's absolutely iconic! I genuinely believe that Sarah Dessen was the Judy Blume of my generation. She writes those iconic teen love stories, those innocent and fresh-faced romances. However, she also writes novels that deal with abuse, teen pregnancy, friendship, eating disorders, and more. All of her books leave you feeling like something huge just happened. You just witnessed something big. My favorites are
The Truth About Forever
and
Lock and Key
, though I've read just about a dozen of her books. I've also recently reread some of them, and they bring me back to my early teens, when I was just discovering the absolute joys of reading. Sarah Dessen will always have a special place in my heart.
Melissa Landers
5. Melissa Landers
I still don't think that I'll ever get over
Alienated
. I'm typically not a huge science fiction girl, but that book got me good. Melissa so exquisitely built the world, the setting, and the characters. It never ceases to amaze me. I still haven't had the chance to read
Invaded
but it's at the top of my TBR list, as soon as I get a spare moment. I just love how Melissa flooded you with information without making you feel like she was flooding you with information. That takes real talent! Not to mention how wonderfully the relationship was written; it was one of the few literary relationships that I felt developed smoothly and naturally. Melissa is fantastic!
Jennifer Niven
6. Jennifer Niven
Everyone who read my review of
All the Bright Places
knows just how much I am in awe of Jennifer Niven. I met her at the NoVaTeen Book Festival in March 2015, and I genuinely teared up. I wouldn't let her talk to me about the book because I was actually on the brink of tears. A few seconds of discussion and I probably would've broken down in a puddle of sobs. It's amazing when words can have that much of an impact on a reader. Jennifer just has this way of conveying emotion and stringing sentences together that makes your soul ache. I've only read
All the Bright Places
by her, but it affected me enough to earn her a spot on my all time favorite list.
Veronica Roth
7. Veronica Roth
Yep, I'll be that cliche teen reader and declare Veronica Roth in my top ten. I know
Divergent
is mainstream now, but that doesn't change my love for the book. I say book because
Insurgent
grated my nerves and
Allegiant
killed me. Nonetheless, I truly admire Veronica. Not only is she massively successful, but she's also crazy young! She is honestly my career goal. Additionally, though
Allegiant
broke my heart, I respect Veronica Roth for her choice. It wasn't a happy ending, but it was an impressive ending. I also respect her for the way that she brought the series together. The world was intriguing and the explanation was fascinating. She truly made a new name for young adult literature everywhere. Because of this, I have reread
Divergent
alone just about six times, oops!
Richelle Mead
8. Richelle Mead
Richelle Mead is another author that inducted me into the realm of reading. The
Vampire Academy
series is probably one of my guiltiest pleasures. I've read the entire series twice or thrice. Richelle created the most intricate and fascinating creatures in those books. The Moroi, Strigoi, and Dhampir are the most interesting vampires I've ever encountered. In a world full of vampire books, it's impressive when someone actually manages to develop a unique take on the mythology. The relationships are fantastic, the friendships are inspiring, and the characters are insanely entertaining. Rose is one of my young adult idols. Fiercely protective of her friends, infinitely sarcastic, and endlessly tough... I wish I could be more like her! I haven't had the chance to read the spin-off series yet, but I've heard nothing but good things.
Michelle Hodkin
9. Michelle Hodkin
Michelle Hodkin is on this list because I have a never-ending admiration for mystery writers.
The Unbecoming of Mara Dyer
is quite honestly a work of art. I've explained in my review how it's just one of those books that leaves you whispering to an empty house with your mind blown. Anyone who manages to do that earns my endless respect. I just love how Michelle sucks you in. She throws you into the book and rattles you so that you can't even tell which side is up. That takes talent. Unfortunately, this is another case of "Nichol only read the first book." I read
The Unbecoming of Mara Dyer
way back when it first came out and never got around to reading the next installments. However, I've heard that they're just as amazing as the first novel.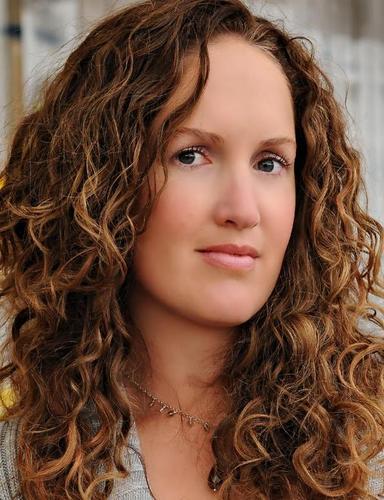 10. Becca Fitzpatrick
I actually put Becca Fitzpatrick on this list for
Black Ice
, not the
Hush, Hush
series. I read
Hush, Hush
ages ago and thoroughly enjoyed it. However, I didn't fall for Becca until I read
Black Ice
. I just found that book so astoundingly fascinating. The whole concept captivated me and it was so well done. The mystery resonated with me, just as Michelle Hodkin's talent in mystery did. I loved the romance and how it flowed naturally; both characters had reservations and it wasn't insta-love. The entire novel was just so impressive, so unique, and so well-done! It earned Becca a spot on this list for sure.
So there you have it! Those are my top ten all time favorite authors. I hope you enjoyed this extremely excessive post.
Now tell me: who are your top ten all time favorites?
Thanks for reading! And I'm sorry I've been MIA for the last few weeks. I've been crazy busy preparing for AP exams and the next steps for college. Thanks to everyone who stuck with me.
Happy Tuesday!