"Waiting On" Wednesday is a weekly event hosted by
Breaking the Spine
that spotlights upcoming releases that give us those book tingles!
In case you didn't see my WoW post last week (featuring
The Masked Truth
by Kelley Armstrong), I'll give you a recap. I'm going to do a little bit of a twist, since I've been reading so many books that don't come out until the fall. I'm featuring books that I've already read in my WoW posts to help build up the hype and do some pre-review gushing. I'll be including some excerpts from my upcoming review!
This week's pick is
Signs Point to Yes
by Sandy Hall. It comes out October 20, 2015, and I'm so pumped. It's such a cute and fun read.
Here's the synopsis: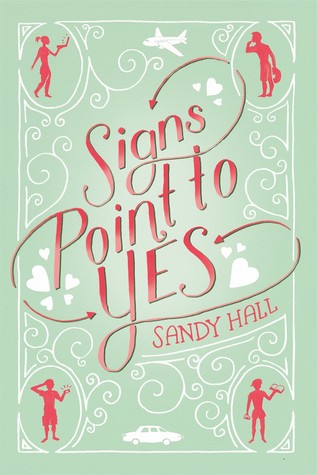 Jane, a superstitious fangirl, takes an anonymous babysitting job to avoid an unpaid internship with her college-obsessed mom. The only problem? She's babysitting the siblings of her childhood friend and new crush, Teo.

Teo doesn't dislike Jane, but his best friend Ravi hates her, and is determined to keep them apart. So Teo's pretty sure his plans for a peaceful summer are shot. His only hope is that his intermittent search for his birth father will finally pan out and he'll find a new, less awkward home. Meanwhile, at Jane's house, her sister Margo wants to come out as bisexual, but she's terrified of how her parents will react.

In a summer filled with secrets and questions, even Jane's Magic 8 ball can't give them clear answers, but Signs Point to Yes.
Such a great read--I definitely recommend preordering. At the top of the list of books I'm waiting on!
Some excerpts from my upcoming review:
"I laughed in almost all of the scenes! If I wasn't laughing, I was definitely grinning like an idiot. Signs Point to Yes was just one of those feel-good books that makes you want to skip around in the sunshine and chase rainbows."

"The writing style, the dialogue, and the characters just really clicked for me."
What books are you waiting on this Wednesday? Comment below!