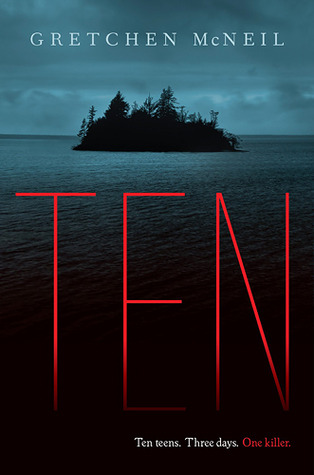 Title:
Ten
Author:
Gretchen McNeil
Format I Read:
Kindle
Pages:
296
Genres:
Mystery, Thriller
Release Date:
September 18, 2012
Stars:
4
Goodreads Link
For those of you who enjoy mysteries reminiscent of Agatha Christie, but like a little taste of YA,
Ten
is definitely a book you need to pick up. McNeil eloquently and expertly wove a tale that adapted
And Then There Were None
in our day and age, with a cast of teenagers who are somehow all connected.
I'm not one to normally read the mystery and thriller genre. My genre is typically romance with a side of paranormal, mystery, thriller, etc. However, above all,
Ten
was a mystery novel. It had a side of romance, but the main focus was the murder and the suspense. This was a really refreshing change of pace for me! I really adored this novel and couldn't put it down.
In case you haven't heard of
Ten
:

SHHHH!
Don't spread the word!
Three-day weekend. Party at White Rock House on Henry Island.
You do NOT want to miss it.

It was supposed to be the weekend of their lives—an exclusive house party on Henry Island. Best friends Meg and Minnie each have their reasons for being there (which involve T.J., the school's most eligible bachelor) and look forward to three glorious days of boys, booze and fun-filled luxury.

But what they expect is definitely not what they get, and what starts out as fun turns dark and twisted after the discovery of a DVD with a sinister message: Vengeance is mine.

Suddenly people are dying, and with a storm raging, the teens are cut off from the outside world. No electricity, no phones, no internet, and a ferry that isn't scheduled to return for two days. As the deaths become more violent and the teens turn on each other, can Meg find the killer before more people die? Or is the killer closer to her than she could ever imagine?

McNeil created a fantastic puzzle that kept the reader guessing. I spent the whole novel trying to figure out who the murderer was; I even fell for McNeil's trap and guessed the wrong person, just like some of the other characters. In the end, I wasn't disappointed. The murderer had such an intricate plan and the puzzle fit together perfectly. Everyone's role made sense and it all just worked.

I also really loved the homage to And Then There Were None. It was cool how McNeil even included a dead fakeout, like Christie does in the novel. In Christie's mystery, the deaths follow a nursery rhyme about ten little Indians. In McNeil's story, the deaths follow a different pattern, though every single murder has a meaning. I thought that was a really cool addition to the puzzle! And, of course, the base of the story was the same. A mysteriously absent host invites the characters to a party on an abandoned island with no exit routes.

McNeil also added some cool aspects to make the story realistic. The characters were invited through Facebook. The storm prevented them from getting off the island. It definitely felt more believable. It's easy to say, "There's no way they'd be stuck on an island in the 21st century. They have so much technology!" However, McNeil makes sure to cover all of her bases and make it completely plausible that the characters are stranded.

I also really enjoyed the characters. McNeil adds a fantastic layer of casual diversity. There's a girl with anxiety and other disorders who needs to take medication. There's a black football star. There's an Asian singer. It was really refreshing to see such a diverse cast of characters! I also loved all of their backstories, especially the friendship between Meg and Minnie. They had a really complex and interesting history.

Overall, I'd probably give Ten 4.5 stars. It was an interesting, pull-me-in, edge-of-your-seat novel that I ate right up. I'm going to round down to 4 stars, just because it wasn't a wow book. However, I had no complaints. I'd definitely recommend to anyone looking for a taste of suspense in their TBR!