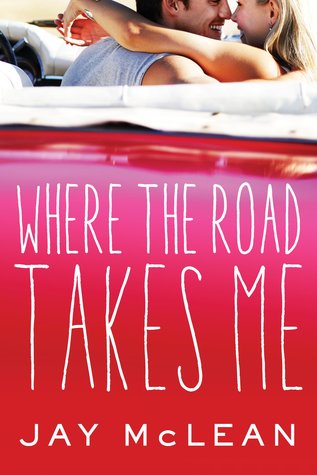 Title:
Where the Road Takes Me
Author:
Jay McLean
Format I Read:
Kindle
Pages:
315
Genres:
Romance, Contemporary
Release Date:
February 10, 2015
Stars:
3
Goodreads Link
Because I was abroad when I read this book, I read it in a few disjointed sessions. This threw me off a bit because, honestly,
Where the Road Takes Me
could probably be three different books in and of itself. At the beginning of the novel, I was slightly turned off. The romance was too fast-paced and the characters weren't doing much for me. However, as time went on, the book grew on me and ended up earning 4 stars.
For those who have never heard of
Where the Road Takes Me
:
Chloe has one plan for the future, and one plan only: the road. She's made a promise to herself: don't let anyone in, and don't let anyone love her. She's learned the hard way what happens if she breaks her rules. So she's focused on being invisible and waiting until she can set out on the road—her dream of freedom, at least for a little while.

Blake Hunter is a basketball star who has it all—everything about him looks perfect to those on the other side of his protective walls. He can't let anyone see the shattered pieces behind the flawless facade or else all his hopes and dreams will disappear.

One dark night throws Chloe and Blake together, changing everything for Blake. For Chloe, nothing changes: she has the road, and she's focused on it. But when the so-called perfect boy starts to notice the invisible girl, they discover that sometimes with love, no one knows where the road may lead.

I actually ended up enjoying a lot of the characters! Mary, Chloe's foster mom, and the rest of Chloe's foster family were fantastic. I also loved the scenes with Blake's mom. The cast was just so well done. I loved how each person could've had their own spinoff. Clayton, Chloe's former foster brother, had so much depth and really moved me. I would love to read a novel dedicated to his story. Josh, Blake's best friend, is a teen dad whose family and friends abandoned him. Yet he's still a fantastic role model and person; I would really love a book just for him, too! The characters were just generally very likable.

All except for Chloe, that is. I'm not saying I hated her… I just hated a lot of her decisions. (This may be a mild spoiler, so tread carefully) I'm sorry, but does she not understand how cancer works? It's not undefeatable. If you catch it early, you have a greater chance of treating it and conquering it. Especially breast cancer! If your mom and your aunt died from breast cancer and you know that there's a 50% chance that you have the gene to develop it… then you're at an advantage! You know to keep your eyes open and watch your body. Yes, you have a 50% chance of getting the cancer, but you have a much higher chance of surviving it, because you know what to look for and what to expect. Yet she just pushed people away and prepared herself for inevitable death. I felt that that was unnecessary and plain dumb, if I'm completely honest. It was selfish and idiotic. I disliked that part of the book.

Fortunately, like I said, the book had so many different elements that it could honestly be almost three different books! There was the road trip aspect toward the last third of the book, which was really cute. You didn't get to see too much travel or development, but they did go to a few different stops along the way, which was fun. So though I wouldn't call this a "road trip novel," it definitely had a nice road trip element. There was the cancer element, which added another layer of seriousness and a level of passion to the book. It helped deliver the theme that life is too short to worry about pushing people away. You need to just embrace the world. There was also the foster family aspect and Chloe's struggle with letting her mom go. That was really moving and a very subtle development and undertone. I really liked watching the relationships change!

Overall, I wouldn't say this was a wow book, but it was thoroughly enjoyable! I liked the mish-mash and variety of the novel. It's probably around 3.5 stars, though I think I'd have to round down to a 3. I definitely recommend this if you're not quite sure what you want to read and want a little bit of everything! A good book to read if you're on a long car ride or on the beach.